Training your employees to more effectively use Office 365 and other Microsoft products will create a more satisfied and productive workforce. The skills learned today will carry forward to allow more flexibility and productivity under many circumstances that impact your business continuity.
Now is the Time for Success with a Remote Workforce
Prepare your users now so you can more quickly recover from the impact of COVID-19.
Learn how to have effective virtual meetings
Master file sharing and online collaboration
Contact Us today to set up your staff on an innovative learning platform proven to improve productivity.
A SOLUTION THAT OFFERS
A personal touch
Only 12% of learners can apply skills they learned in a training session to their actual job.
Content that inspires
1 out of 3 employees says that uninspiring content is a barrier to learning.
Less fluff, more meat
The average employee has only 4.8 minutes a day to devote to training.
Engagement
54% of employees feel unengaged with their work and their software.
A little fun
80% of users claim leaning would be more productive if it were more game-oriented.
We offer a personalized approach to learning. Each user creates a profile to identify their experience with Microsoft applications and their job characteristics, such as travel, work locations, involvement in management, activities, and type of devices used. A Skill Path is created to make it easy to access and complete training relevant to the user. Courses are assigned with due dates and the user receives feedback on progress.
Quick
Long courses are difficult to add to your day and hard to take in. Course videos are presented in bite-sized pieces, and QuickStart Cards provide tips and tricks at your fingertips.
Productivity You Can Measure
Management also receives reports that include how the user felt the training impacted their skill level.
Conquer change in challenging times.
How people adapt to changing technology will define the future of their careers, their organizations, and the world. Embracing change is a no-brainer, but the workforce continues to fall behind. Here's how to make change work with you, not against you.
Drive Organizational Change with Quickhelp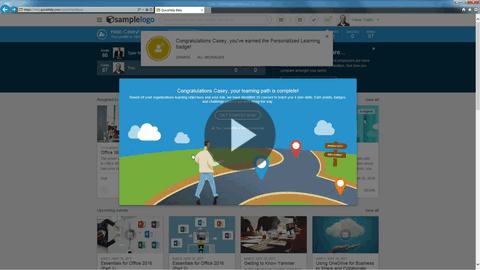 Check out this video: https://share.vidyard.com/watch/7p61Dak4hwgREV7XpXi3kc?